Most of the successful people of our time like Bill Gates, Elon Musk, Hillary Clinton, and Oprah Winfrey read books to develop themselves and to absorb knowledge. Of course, these people don't just read any books, they carefully pick books that educate them. Your time is scarce so you should be picky about the books you read. You want to read only the best books that help and inspire you, not just a fluff.
In this article, we will have a look into a list compiled of the most recommended personal development books that are also best selling. When you have read these inspiring books on this list you can be certain that you have set your first step towards success and change your life.
Let's begin with our list "Top 9 Personal Development Books" and be ready to change our lives!
Top 9 Personal Development Books
For this list, we have only looked at non-fiction books and in the self-help, personal development, or philosophical category. Although there are also very interesting bibliographies and fictitious stories that could aid self-development — but within this list they are not included, but have dedicated a special note to them in the end.
1. Think and Grow Rich (Napoleon Hill)
Written before WOII it is the classic self-help book that started the rage of self-help books we are familiar with today. Written in a very assertive yet persuasive tone the optimism outlined in the book is the embodiment of the American Dream. Using his own personal life as a starting point Napoleon Hill explains the steps to become rich and successful. Think and Grow Rich describes with clear examples that if one can change his/her mindset, one can achieve anything they set their mind to: the deaf can learn to hear and the beggar can become a chooser.
Indeed an inspiring book that assures you that not just anyone will understand the book but if you can decipher the deeper message within you will find success, wealth, and everything else you desire.
2. The 7 Habits of Highly Effective People (Stephen R. Covey)
By far the most relevant book on the topic of self-development. Covey describes 7 habits to enable you to better cope with life. Whether this be in work, relationships, or just your personal life. Using anecdotes Covey guides you past the 7 habits that can improve your life by changing the way you look at the world.
Famous quotes like "thinking win-win" and "sharpen the saw" were made famous by this book. Many great leaders possess the 7 habits and many people who are on the road to success will have to read this book. Because it is a clear and easy book to read, it is also an excellent starting point.
3. How to Win Friends & Influence People (Dale Carnegie)
Written as a guide to human interactions "How to Win Friends & Influence People" is a classic and foundational book that is also a very practical guide. It helps improve relations and learn to understand and work with the people around you.
The book is suggested by very successful people like Warren Buffett and Bill Gates and is said to have helped them improve their relations which allowed them to become so successful.
Whether true or not the book certainly is written in a fun way, using lots of anecdotes from famous people, on how you can become a person that people can appreciate while also getting things done.
It is a manual that you can go back to many times before you truly grasp the concepts of the book. A must-read that should be on everyone's bookshelf but unfortunately is missing on most. (That's sad..)
4. The Power of Now (Eckhart Tolle)
As you can guess from the title "The Power of Now" stresses the importance of living in the present moment. It is written as a guide for day-to-day living. Tolle cleverly uses ancient wisdom from Buddism, Zen, and Christianity to create an accessible belief system or mindset that can help you deal with the stress and anxiety you experience in everyday life.
At the core is the principle of letting go of past and future worries. Besides spiritual philosophy, the book also gives useful and practical guidance in the form of relaxation and meditation tips. No wonder that a long list of successful people in a variety of fields has read or recommended the book including Oprah Winfrey, Tony Hawks, and Katy Perry.
5. Awaken the Giant Within (Tony Robbins)
Tony Robbins is a famous speaker and self-help guru that has helped many people become a better version of themselves. Whether you are a fan or not, it can never hurt to read the book that changed so many people's lives.
Robbin's style is similar to the first book of this list "Think and Grow Rich" with the belief that you can 'think yourself successful' and focuses on mental, physical, and financial aspects of life. Awaken the Giant Within focuses on your mindset towards goals, are you taken the easy road or are you really challenging yourself, and are you persistent enough? The book inspires you to believe in yourself. I mean, whoever heard a successful person say they do not believe in themselves?
6. The Magic of Thinking Big (David J. Schwartz)
If you don't believe you will be successful, I can almost guarantee you right now that you never will. It is the ultimate self-fulfilling prophecy. By not believing you are able to do something great you will unconsciously self-sabotage yourself and can't make your belief come true.
Now believing in yourself and imagining what you can become is not easy. The Magic of Thinking BIG will show you what that point on the horizon you work towards can be for you. What a truly worthy goal to strive for looks like. It will guide you through the obstacles of excuses, lack of faith, and lack of imagination. It can help you to find your "why" in life, by thinking big.
7. Daring Greatly (Brené Brown)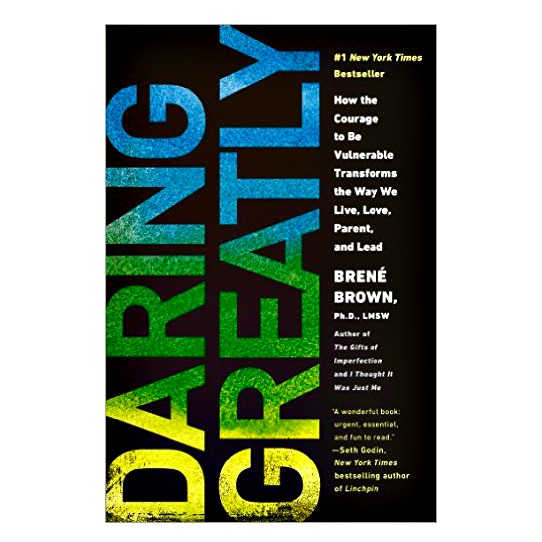 Brown's TED talk "The Power of Vulnerability" is one of the top five most viewed TED talks, with over 40 million views. In her book, she talks about how people who put themselves out there, who do things and in doing so make themselves vulnerable are the ones that succeed. Because being vulnerable means that you need the courage to allow yourself to be vulnerable.
If you just read the previous book The Magic of Thinking Big it is time to Dare Greatly to make it happen. It means putting yourself out there wholeheartedly, exposing yourself to shame and you will be vulnerable. This book will help you give insights on how to cope with that step that you must take in order to become a better you.
8. The Power of Positive Thinking (Norman Vincent Peale)
Sometimes you just need a little faith. People who want to change the world and their lives for the better are generally not conspiracists but instead people who have faith. Faith that humanity will always work towards something good, that the glass is half full and that people are inherently good.
In order to become a better version of yourself you need to learn to have faith and this book will demonstrate and teach you the power of faith and positive thinking. The book provides practical techniques to learn how to think positively, work on your ambitions and find fulfillment in your life.
9. The 4-hour workweek (Timothy Ferris)
What if I told you that there is a different path in life that working till 60-70 and then retire and live the good life? The theories in this book are not new but they do provide a comprehensive overview of how to escape the rat race and live a more fulfilling life before retirement.
Learn what your time is actually worth and how you can enjoy little mini-retirements throughout your life. How to live a life in luxury and how to outsource the stuff you don't like. This book is a comprehensive summary of a new way of living and that's why it's good.
Special Note
At the end of making the ultimate list of life success inspiring books, there are always some books that can't make it on the list but assuming, this list still do have added great value to those seeking to be inspired to suceed in life. Therefore we have created this special note sections for two books that do not make it to the Top 9 Personal Development Books but can be interesting for very specific topics that you might be interested in because they are inspirational in a different way. They can give us some small answers to the question of why we live and who we are.
Man's Search for Meaning (Viktor Frankl)
In this book, holocaust survivor Viktor Frankl tells us about his experiences as a prisoner in a Nazi concentration camp. On the edge of the world, when all hope is lost this man still found a way to identify a purpose in life and to feel positive about it. It described spiritual survival during a time when there was nothing holy about the world. We might not be able to avoid suffering but we can choose how to cope with it. We can choose to find meaning in it and to move forward with renewed purpose. 
The Alchemist (Paulo Coelho)
Written as a fable The Alchemist tells of a journey of a shepherd boy who goes looking for treasure. On his way, he finds people who will guide him towards the treasure although nobody knows what the treasure is. On his way the boy finds many obstacles to overcome in order to reach his destination. They are all obstacles that we can relate to, things we have overcome or that we will encounter at some point in life. Written as a novel it makes the book very easy to read and different from the normal self-help and personal development books on this list.
If you have any other suggestions of interesting books on top of the list Top 9 Personal Development Books, let us know in the comments!